Cleaning and disinfecting
VIVE Focus 3
Here are a few tips to help you keep
VIVE Focus 3
clean and hygienic.
Do's

Dampen a cloth with a diluted alcohol solution (75%) and use it to wipe the hard surfaces of the headset and controllers clean, especially places you frequently touch with your hands.
PU leather face gaskets can also be wiped clean with a damp cloth.
To avoid skin irritation, make sure the headset and any accessories are free from disinfectants before using them again.
Don'ts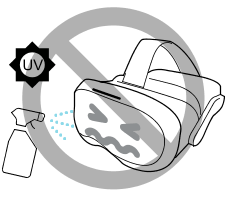 Don't spray or pour liquid directly on the headset or controllers.
Don't use any liquids or cleaning solutions on the lenses.
Don't expose the headset or controllers to direct sunlight.
Don't machine wash the headset or controllers.
Cleaning the headset lenses

Use a clean, dry cloth such as the lens cleaning cloth that came in the box to wipe the lenses clean.
Never use any kind of cleaning solution on the lenses.
To avoid smudging the lenses while cleaning them, wipe in a circular motion from the center of each lens to its outer edge.