About the phone controller
Use your
Android
phone to interact in VR.
Note:
You need to use the phone that you paired with your

VIVE Flow

, and make sure your phone and

VIVE Flow

are connected via

Bluetooth

.
Make sure the phone screen is unlocked.
You can also use the VR controller to interact in VR. See About the VR controller for details.
Phone controller interface
VIVE

Opens the VIVE menu where you can access shortcuts.

Trigger

Depending on the app, this can either be used as a trigger or to select/drag items. Tap to select items or tap and hold, and then move the phone to drag items.

Menu

Opens the app menu.

Select

Depending on the app, tap to select items or tap and hold, and then move the phone to drag items.
Tip:
In VR, look down on your hand holding the phone to see the controller layout. You can also see visual feedback when you tap the phone screen.
To close the currently running app and go back to Home, open the VIVE menu, aim the beam on the Home image, and then select

Back to Home

.
Touch gestures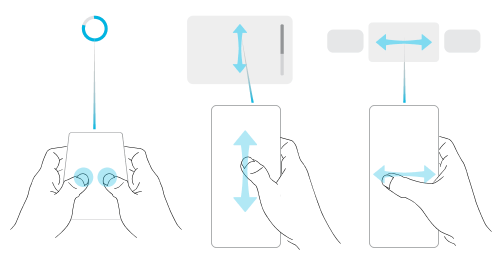 Aim your phone forward and hold it parallel to the floor, and then tap and hold the screen with 2 fingers for 2 seconds to recenter the beam. Do this if the beam orientation is off or you can't see the beam in VR.
Swipe vertically or horizontally to go through screens.
The phone controller is automatically disabled when you take off
VIVE Flow
. If you need to use your phone while using
VIVE Flow
, disable the phone controller by swiping down from the top of the phone screen. You need to disable the phone controller to use your phone.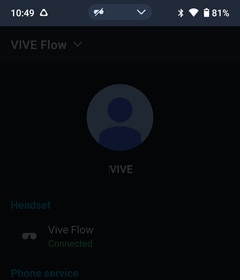 Note:
Your phone screen is dimmed when the phone controller is enabled.
To enable the controller again, swipe down to open the Notifications panel, and then tap
Phone controller disabled: Tap here to enable
.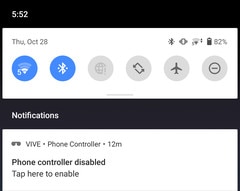 Related How-tos