About the headset and battery cradle
Familiarize yourself with the components of the headset and battery cradle before use.
Outside and front views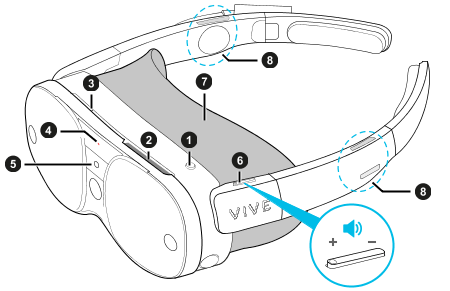 1. Headset button

2. Vent

3. Microphone

4. Status LED

5. Depth sensor

6. Volume control

7. Face cushion

8. Speakers
Note:
Don't cover the vent (item #2) or insert objects into it, which may block airflow and cause the headset to overheat.
Inside and bottom views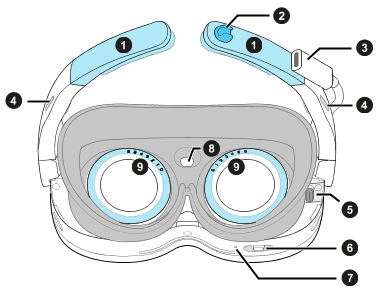 1. Removable temples

2. Cable notch

3. Extended USB Type-C power port

4. Speakers

5. USB Type-C accessory port

6. IPD slider

7. Microphone

8. Proximity sensor

9. Diopter dials
Note:
The inner-right
USB Type-C
port (item #5) only supports connections to the dedicated tracker accessory. PC and storage device connections are not supported.
Headset cameras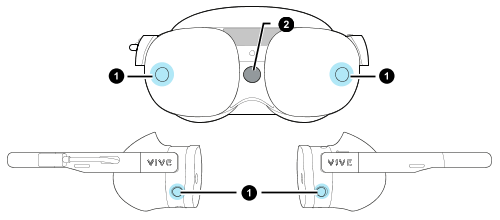 Tracking cameras (×4)
Passthrough camera
VIVE Battery Cradle for XR Series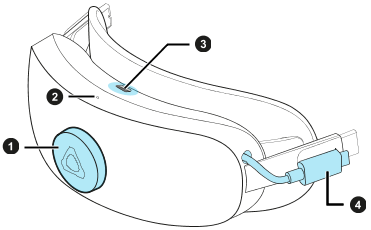 Adjustment dial
Power LED

USB Type-C

port
Extended

USB Type-C

cable
Note:
The
USB Type-C
port on the battery cradle can be used for PC and external storage device connections.
Related How-tos