About cleaning and disinfecting
VIVE Focus 3
Keep
VIVE Focus 3
clean and hygienic with a few simple tips.
Do's

Dampen a cloth with diluted alcohol mixture (75%) to wipe down the hard plastic of the headset and controllers you touch most.
PU leather face gaskets can be wiped down with a damp cloth.
Make sure all disinfectants have been wiped off before use to avoid irritation.
Don'ts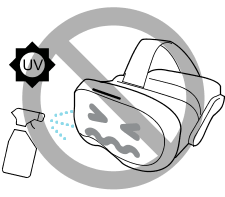 Don't spray or pour liquid directly on your headset or controllers.
Don't use any liquids or cleaning solutions on the lenses.
Don't expose your headset or controllers to UV rays or direct sunlight.
Don't machine wash.
Cleaning the headset lenses

Use a dry cleaning cloth to wipe the lenses, such as the included cloth.
Never use any kind of cleaning solution on the lenses.
Wipe in a circular motion from the center to the outer edges of the lenses.