Connecting the headset to your computer via the converter
Use the converter to connect the
VIVE Cosmos Elite
headset to your computer.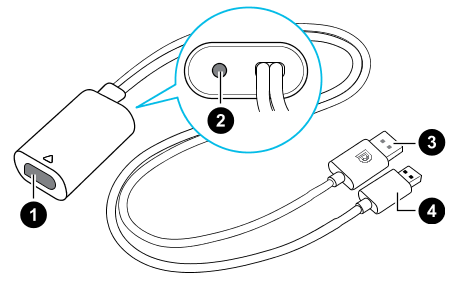 1
Headset cable port
2
Power port
3

DisplayPort

cable
4
USB 3.0 cable
Connect the power adapter cable to its corresponding port on the converter for

VIVE Cosmos Elite

.

Plug the power adapter into an electrical outlet.

Connect the opposite end of the USB 3.0 cable to a USB 3.0 port on your computer.

Connect the other end of the

DisplayPort™

cable to the

DisplayPort

port on the graphics card of your computer where the monitor is also connected. Do not connect the

DisplayPort

cable to ports on the motherboard.

Insert the headset cable connector (side with triangle mark up) to the port on the converter with the corresponding triangle mark.
Related How-tos

Related How-tos