Putting on the
VIVE Cosmos Elite

headset

Before wearing the headset for the first time, make sure to do the following: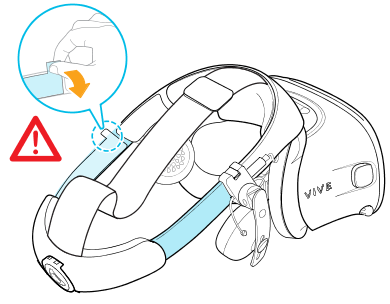 Peel off the protective film on the lenses.
Fully loosen the band and peel off the protective film starting from the left side of the band.
Detach the velcro fastener on the top strap, and then loosen the band by turning the adjustment dial counter-clockwise.

While holding the visor with one hand, pull up the band.

Hold the visor to your eyes. Adjust the position of the visor until you see a clear image inside the headset.

Pull down the headset band around the back of your head until you hear a click. The click indicates that the headset band has locked into place.

Important:

When you pull down the band, make sure the headset cable is not caught in between the band and your head. Let the headset cable run straight down your back.

Turn the adjustment dial clockwise until the headset fits snugly.

Make sure the visor faces straight ahead. If the band sits too low or high on the back of your head, the visor will be tilted. It will also be difficult to position the on-ear headphones properly on your ears. If there's light leakage around the areas of your nose or cheeks, adjust the position of the band.

Adjust the top strap until snug, and then fasten the velcro strap.

If there's light leakage around the areas of your nose or cheeks, readjust the strap and reposition the band.
Related How-tos