About
VIVE Wireless Adapter
Freeing you from cables,
VIVE Wireless Adapter
attaches to your headset and wirelessly receives VR data from your computer. It comes with a PCIe
WiGig®
card and wireless link box that need to be installed on your computer to transmit data.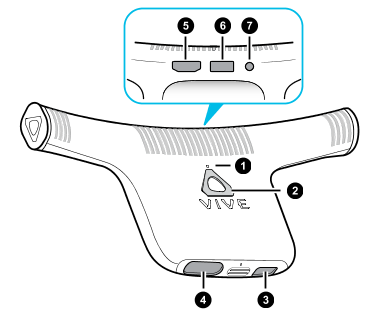 1. LED
2. Pair button
3. USB power port
Connection port for

VIVE Pro

:
4. Headset cable port
Connection ports for

VIVE

:
5. HDMI port
6. USB port
7. Headset power port
To find out more, see Setting up VIVE Wireless Adapter.