Adjusting the IPD on the headset
Interpupillary distance (IPD) is the distance between the center of the pupils in your eyes. Setting it to the correct distance is one of the keys to having a great viewing experience in VR and to avoid blurry and out-of-focus VR experiences.
While wearing the headset, adjust the IPD by moving the adjustment slider below the headset left or right.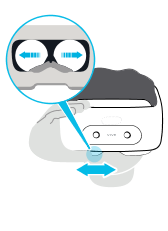 Stop adjusting when you get a clear and sharp view in the headset.