HTC VIVE launches powerful and versatile VIVE XR Elite
VIVE XR Elite includes both VR and MR capabilities, with a full-color RGB camera for passthrough
Lightweight at just 625g, and that includes the battery weight
Wide range of new content with 100 XR experiences arriving on VIVEPORT in the launch window, including, Figmin, Hubris, YUKI, Maestro: The Masterclass, Les Mills Body Combat
Pre-order opens today, 5 January, on vive.com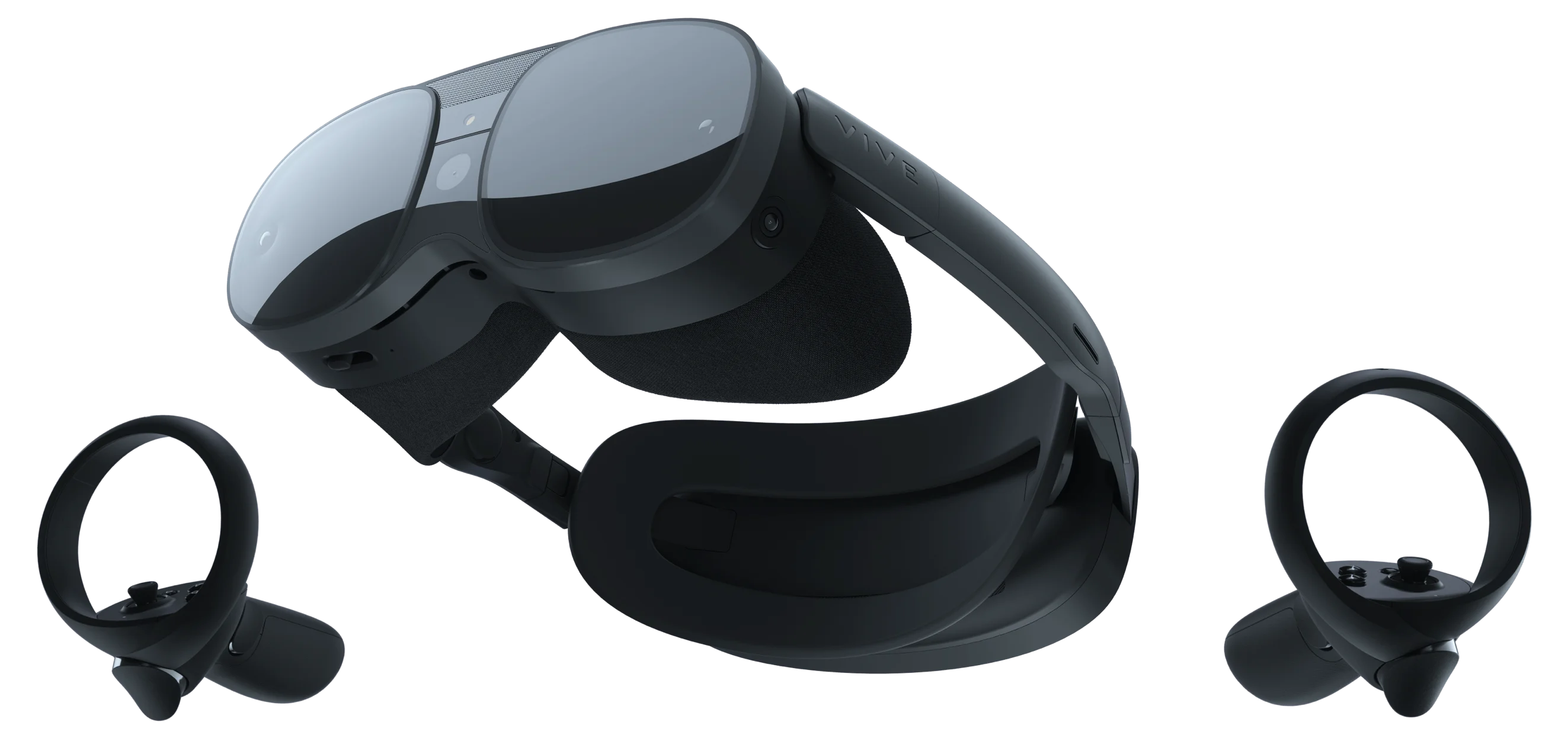 5 January, 2023: HTC VIVE continues to push the boundaries of innovation, today unveiling its new consumer flagship all-in-one, VIVE XR Elite. The headset combines Mixed Reality (MR) and Virtual Reality (VR) capabilities into one compact, lightweight, powerful and highly versatile device – perfect for gaming, fitness, productivity and more.

"The VIVE XR Elite all-in-one represents the next milestone in the progression towards the fully immersive internet, going beyond today's VR with accurate pass-through video to open up a new realm of realism in learning and playing," said Cher Wang, Co-Founder and Chairwoman of HTC Corp. "This advanced yet compact device offers the best of all worlds for consumers, providing the ideal physical gateway to the universe of experiences offered by VIVERSE, our version of the metaverse, with the widest variety of content inputs even up to the very latest standards such as Wi-Fi 6E."

VIVE XR Elite includes a full-color RGB passthrough camera, and hand-tracking, which enables a whole new dimension of MR scenarios. This can include playing games where the characters are running on your furniture, having real-time overlays on musical instruments like a piano so you can learn, and even having the ultimate workstation with multiple virtual screens while still being able to use your real-world keyboard and mouse.
Enjoy immersive content your way
VIVE XR Elite will see HTC VIVE's biggest range of launch titles ever, with 100 new pieces of MR and VR content arriving in the launch window – from new games to classics – with more to follow. That includes, Demeo, Hubris, YUKI, Maestro: The Masterclass, Les Mills Body Combat, FigminXR, Unplugged: Air Guitar, Finger Gun, and more. Post-launch, even more content will arrive, such as Everslaught: Invasion, and later in the year full MR games like Eggscape.

VIVE XR Elite can be connected easily to a PC via USB-C to access PCVR content from VIVEPORT and Steam and supports wireless PC streaming over Wi-Fi or the latest generation - Wi-Fi 6E with low latency and great graphics.

You can even stream content wirelessly from a compatible Android phone to VIVE XR Elite, which opens a whole new world of entertainment. In the headset, you'll enjoy viewing on your own personal cinema screen of 300 inches. That includes content from services like Netflix and Disney+ or games like Fortnite, and you can even connect a Bluetooth controller to your phone for a full gaming experience.
Powerful, versatile, all-in-one XR
VIVE XR Elite takes versatility to the next level. It has a sleek modular design that can easily be transformed into a glasses form factor - simply remove the battery and fit the VIVE XR Elite temple pads. Change the physical configuration so it works best for whichever situation you're in, whether that's at home, in the office, or traveling on a plane.

The redesigned hinge means the extended arms of VIVE XR Elite cup your head just like the front and back of a traditional all-in-one. There's a USB-C connecting cable on the right-hand side, which you can plug into a power source like a battery bank or airline seat.
Intuitive control with precise tracking
With four wide FOV cameras, exceptional 6DoF spatial accuracy, a depth sensor, hand-tracking and capacitive sensing for your finger movements on the controllers, developers have lots of options to incorporate in VR and MR content for accurate movement to enhance your overall experience.

VIVE XR Elite has both physical controllers and hand-tracking to achieve all-important accuracy when gaming, for productivity, and even learning scenarios. VIVE Wrist Tracker is also compatible to deliver enhanced hand tracking, or it can be attached to objects you want to track in XR.
Compact design, superior performance
The visual impact is sharp with a wide 110 FOV, 4K resolution which results in a crisp image all running on a smooth 90Hz refresh rate. VIVE XR Elite has adjustable lenses so you can take off your glasses and still enjoy a clear picture with greater comfort. Find your perfect sweet spot without having to remove the headset, with a built-in fine-adjustable IPD slider placed on the outside of the headset.
Find the perfect balance of comfort and performance with VIVE XR Elite's beautifully compact design. The full headset weighs just 625g including the battery, which is placed at the back for balance and is curved for optimal comfort, and delivers up to two hours of full XR use. The battery is removable and hot swappable, so you can keep going whether it's changing to another power source or changing to another battery. It has 30-watt fast charging and is charged via USB-C power delivery.

It also has a removable fabric face gasket, connected by magnets to make it easy to clean or switch out for a fresh one. The sound stage is enhanced by adding larger speakers that allow layers of immersion with enhanced bass, balance, and directional audio that adds up to better clarity in any XR experience, without having to rely on external solutions.
VIVE XR Elite marks HTC VIVE's continued commitment towards corporate social responsibility. Its environment-first packaging is 99.9% paper, made from 99% recycled materials, and is 100% recyclable.
Step into VIVERSE
VIVE XR Elite brings the best of HTC VIVE's hardware and software innovation together which will enable you to dive straight into XR through VIVERSE, making it easier and more immersive from the second you put on the headset.

You start in a two-floor customizable social space that acts as the launchpad of your adventures – simply look at the shelf in your space to launch your favorite XR games and experiences or look at the paintings on the wall and use them as portals into new worlds. A dedicated living area means you can invite friends over to hang out and to help with keeping that work/life balance, you can go to the second floor and check out your agenda for the day.

HTC is working with a variety of technology and content partners to bring its vision of an open, interoperable, and imaginative VIVERSE to life.
VIVERSE growth and optimization
VIVERSE continues to demonstrate leadership in supporting open standards and is accessible from a wide range of connected devices that support a web browser.

HTC has partnered with the leading Japanese creator platform pixiv to Integrate VRoid's Anime-Style Avatars into VIVERSE, which makes it easy to bring avatars into VIVERSE leveraging the open VRM standard.
VIVERSE continues to push the boundaries of immersive experiences and has a host of upcoming content. This includes an immersive retelling of the iconic story "The Little Prince" which will be available as an interactive experience in VIVERSE, in late 2023.

Fashion magazine ELLE Taiwan has announced it will launch its own "ELLEverse" showroom in VIVERSE, along with a series of unique avatar outfits and special events to be held in VIVERSE throughout 2023. And there will also be a partnership with Warner Music Taiwan on a new music experience world, where users can enjoy the latest music videos in a fantasy virtual environment, and also unlock secret scenes or hidden treasures through interactive activities.

HTC is also collaborating with Lamina1 to accelerate the realization of an open metaverse ecosystem for society. HTC's VIVERSE platform will be utilizing Lamina1's layer one tools to enable more efficient cross-world cross-platform asset distribution and management, so users can seamlessly keep their digital assets (avatars, clothes, artwork, etc.) with them as they traverse the metaverse.

Lamina1 was co-founded by Snow Crash author Neal Stephenson, who coined the term metaverse back in the early 90s, and Crypto Pioneer Peter Vessenes.
Pricing and availability
VIVE XR Elite is available to pre-order globally from 5 January via vive.com and participating authorized retailers. Pre-order shipments are estimated to begin from late February. VIVE XR Elite comes with the headset itself, 2x controllers, and the headset battery cradle, and will cost*:
US $1,099 exc. VAT
UK £1,299 inc. VAT
DE/FR €1,399 inc. VAT
NO 15,499 NOK
SWE 16,299 SEK
DK 11,099 DKK
AU $2,099 inc. GST
NZ $2,299 inc. GST
HTC VIVE's latest headset launches with a promotional offer of an XR games/content bundle, in certain regions.
VIVE XR Elite will also be available for enterprise users, with more information coming later this year and HTC VIVE will also be launching a Face and Eye Tracker unit in 2023.
To find out more, visit www.vive.com/vive-xr-elite/
CONTACT: vivepr@htc.com
Press kit can be accessed via this link
About HTC VIVE
HTC VIVE is the premier virtual reality (VR) platform and ecosystem that creates true-to-life VR experiences for businesses and consumers. The VIVE ecosystem is built around premium VR hardware, software, and content. The VIVE business encompasses best-in-class XR hardware; VIVEPORT platform and app store; VIVE Enterprise Solutions for business customers; VIVE X, a US$100M VR business accelerator; and VIVE ARTS for cultural initiatives. For more information, please visit www.vive.com.
HTC, VIVE, the HTC logo, and the VIVE logo are the trademarks of HTC Corporation. All other names of companies and products mentioned herein may be the trademarks of their respective owners.