HTC VIVE Expands Enterprise Portfolio with New VIVE Pro Eye Bundles
Full suite of VIVE Pro Eye solutions makes Virtual Reality more accessible for businesses of all types
VIVE Pro Eye now available at new price worldwide
SEATTLE, March 2, 2020 /PRNewswire/ -HTC VIVE®, the leader in premium virtual reality (VR), today announced a full suite of VIVE Pro Eye solutions, offering enterprises a range of pre-bundled packages to meet the diverse business needs of VR in the enterprise such as training and simulation, consumer feedback and analytics, and gaze-oriented navigation, among many more. New additions to the VIVE Pro Eye family include the VIVE Pro Eye Office and the VIVE Pro Eye Office Arena Bundle, offering extended business and warranty services for dedicated and expedited customer service support, to additional base stations for larger play spaces.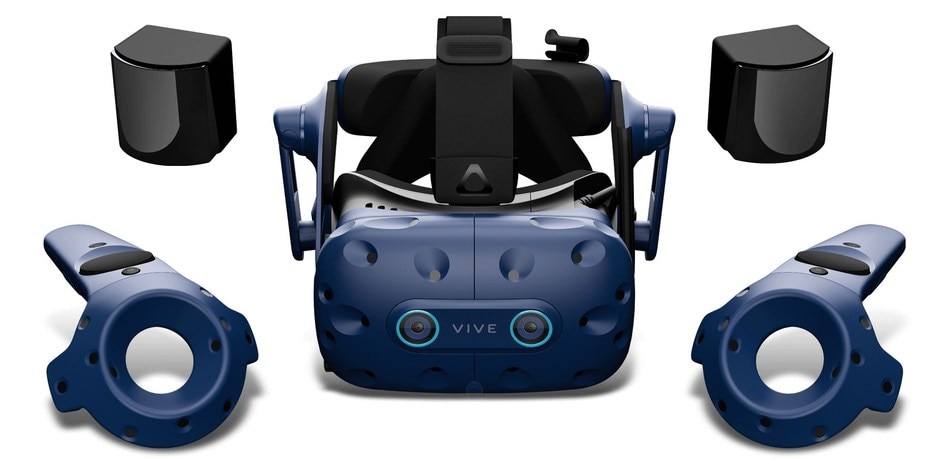 Built for business and professional users, VIVE Pro Eye offers native eye tracking, high resolution, increased comfort, and the precision of external tracking. The new VIVE Pro Eye series delivers three levels of enterprise VR solutions and support, giving companies the ability to select the best option based on their needs and use cases.
VIVE Pro Eye Office ($1,599): Includes all the features of VIVE Pro Eye, now packaged with VIVE Enterprise Business Warranty & Services, offering an expedited customer service experience and an extended warranty in a single offering.
VIVE Pro Eye Office – Arena Bundle ($2,350): Offers the largest operating space for destination entertainment and, bundling two additional SteamVR 2.0 base stations for play spaces up to 33' x 33' (10m x 10m) and a 20m fiber cable.
In addition, the VIVE Pro Eye, the first headset to integrate eye tracking technology, is now offered at a lower price of $1,399.
"Companies today need access to a diverse set of hardware and VR solutions built for their specific needs, and we developed these offerings to provide our enterprise customers with increased choice and the important tools and services to make VR an integrated tool within their business," said Yves Maitre, CEO, HTC. "As business use cases for extended reality become more prominent and diverse, the new VIVE Pro Eye series delivers multiple ways to address the majority of VR use cases today."
Companies of all sizes and across industries are already using VIVE technology to train thousands of people safely and efficiently. From manufacturing to medical, transportation to design, commerce to real estate, and everything in-between, companies are realizing the value of VR. By incorporating the VIVE Pro Eye into daily operations, companies can experience a new level of VR training, deeper product research and deliver more intuitive and engaging experiences to their customers and employees.
Business Warranty and Services (formerly "Advantage")*
Starting with the launch of the new VIVE Pro Eye bundles, VIVE has simplified its business warranty and support program. The new "Business Warranty and Services" offering helps businesses protect their VR investment and are included as standard in any "Office" bundle**. The package includes a two-year limited commercial-use warranty, support, and services. Features like next business-day email response and expedited product repair minimize downtime.
* Business Warranty & Services package is required for the commercial use of VIVE products. ** Business Warranty & Services also sold separately
Availability
The new VIVE Pro Eye Office and Pro Eye Office Arena Bundle will be available in Q2. For more on the new VIVE Pro Eye bundles, please visit: https://go.vive.com/pro.
About HTC VIVE
HTC VIVE is the premier virtual reality (VR) platform and ecosystem that creates true-to-life VR experiences for businesses and consumers. The VIVE ecosystem is built around premium VR hardware, software, and content. The VIVE business encompasses best-in-class XR hardware; VIVEPORT platform and app store; VIVE Enterprise Solutions for business customers; VIVE X, a $100M VR business accelerator; VIVE STUDIOS, an entertainment, gaming, and enterprise content studio; and VIVE ARTS for cultural initiatives. For more information on VIVE, please visit www.vive.com.
# # #
HTC, VIVE, the HTC logo, and the VIVE logo are the trademarks of HTC Corporation. All other names of companies and products mentioned herein may be the trademarks of their respective owners.