HTC VIVE Collaborates With Taipei Municipal Wan Fang Hospital To Build The First Multiuser VR Patient Education Room Using VIVE Focus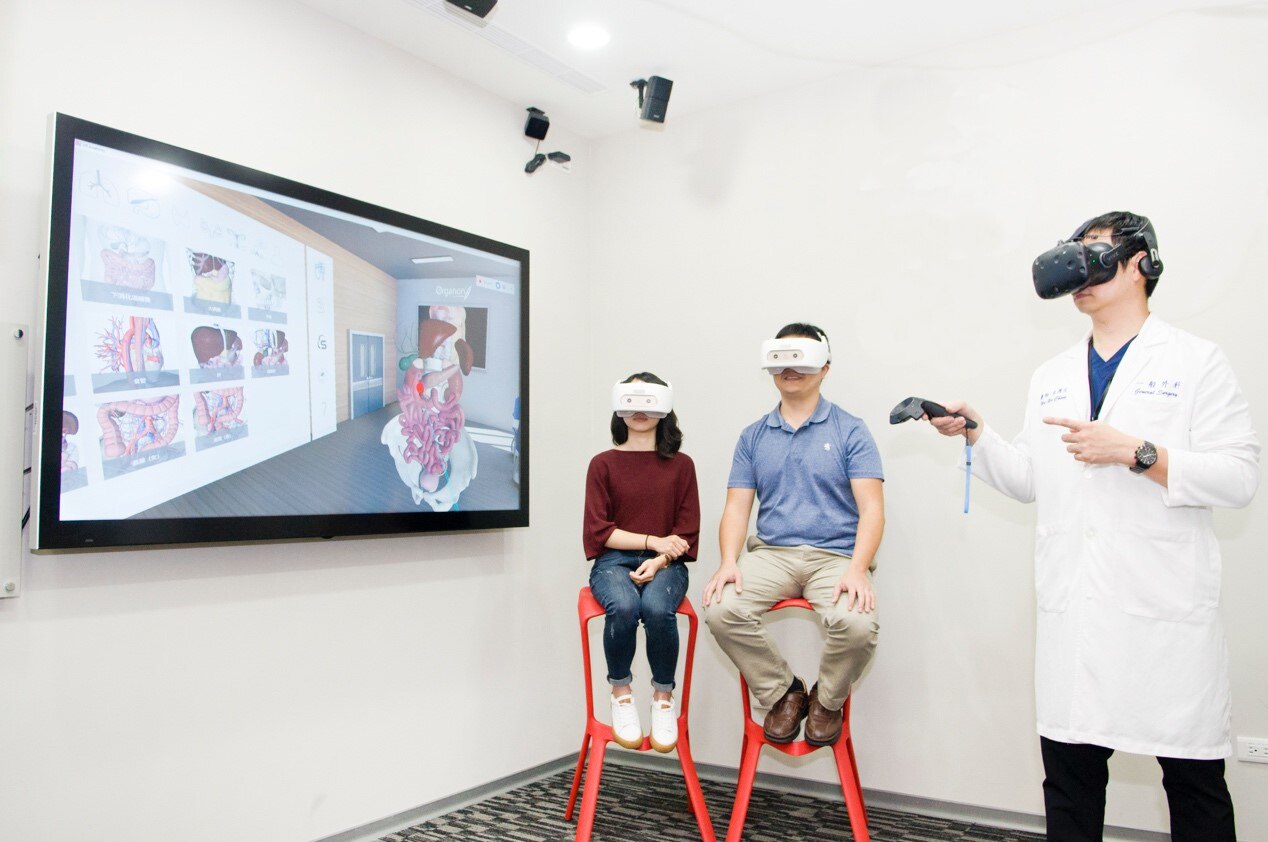 SEATTLE, Jan. 23, 2019 – DeepQ, the healthcare division of HTC, today announced a deployment of HTC VIVE™ hardware at Taipei Municipal Wan Fang Hospital to create the first multiuser patient education room in VR. Using VIVE Focus with the VR human patient education application, surgeons and families can join a shared VR world where surgeons can explain surgical procedures and educate patients. With this cutting-edge VR technology, doctors can improve care for patients.
"VIVE Focus can be used as a tool to break down barriers between doctors and their patients to improve care and drive education of patients to new levels," said Edward Chang, President of HTC's DeepQ division. "With VIVE Focus, medical consultation can become mobile and more approachable to patients and doctors alike. We're proud to work with Taipei Municipal Wan Fang Hospital to explore how VR can begin to change medicine."
"In the past, it has been difficult to educate patients on the impacts of a procedure or medical need. Through VR, physicians can now easily talk to patients about human organ structures and treatment plans in a shared environment," said Kuan-Jen Bai, Dean of Taipei Municipal Wan Fang Hospital.
VIVE Focus, a stand-alone VR headset from VIVE, features Hi-Res display with a 3K AMOLED screen and a portable form factor that eases deployment in medical and business environments.
A typical patient consultation today can involve human anatomy models, however, micro structures such as nerves, vessels, and lymph nodes are difficult to be displayed. Using VR, patients can more easily understand the impact of diagnosis and treatment plans alongside their physicians.
Taipei Municipal Wan Fang Hospital is paving the way for new methods of patient education. The patient application brings over 4,000 detailed structural components and micro structures such as nerves and vessels. New models and tools will be updated over time.
In the future, Wan Fang Hospital will also integrate the VR education platform with the Health Information System (HIS) system of the hospital's patient educational review system. After each VR patient education, the public, the family, and healthcare personnel's review will be digitalized.
For more information please visit:https://deepq.com/medical-vr-page/
For more article please visit:
About Taipei Municipal Wan Fang Hospital:
Taipei Municipal Wan Fang Hospital is the first Public utility managed by private sector in Taipei City Government. Owing to support from all stakeholders and the efforts from all staff, we proceeded from a local community hospital to medical center in a short time.
Furthermore, we have achieved outstanding performance and outcome. Nowadays, the Hospital has reached 743 bed counts and owns over 400 full-time doctors. Many of our doctors are certified faculty devoted to training medical students for fostering excellent doctors of next generation. Teaching, research, service and quality assurance are equally important as the mission of the Hospital. In addition, "Value the Community, Honor the Patients" as well as "Quality of Service Is Our Pride" are our fundamental philosophy and core values. Altogether, these solidify our strong and sustained commitment to carry out the social responsibility to citizens.
About HTC VIVE
VIVE is a first-of-its-kind virtual reality platform, built and optimized for room-scale VR and true-to-life interactions. Delivering on the promise of VR with game-changing technology and best-in-class content, VIVE has created the strongest ecosystem for VR hardware and software, bringing VR to consumers, developers and enterprises alike. The VIVE ecosystem is built around the best VR hardware in market, supported by VIVE X, a $100 million accelerator for VR and related technology start-ups, VIVE, a global platform and app store with the world's first VR subscription model that operates in more than 60 countries, and VIVE Studios, its VR content development and publishing initiative. For more information on VIVE, please visit www.VIVE.com.
# # #
HTC, the HTC logo are the trademarks of HTC Corporation. All other names of companies and products mentioned herein may be the trademarks of their respective owners.