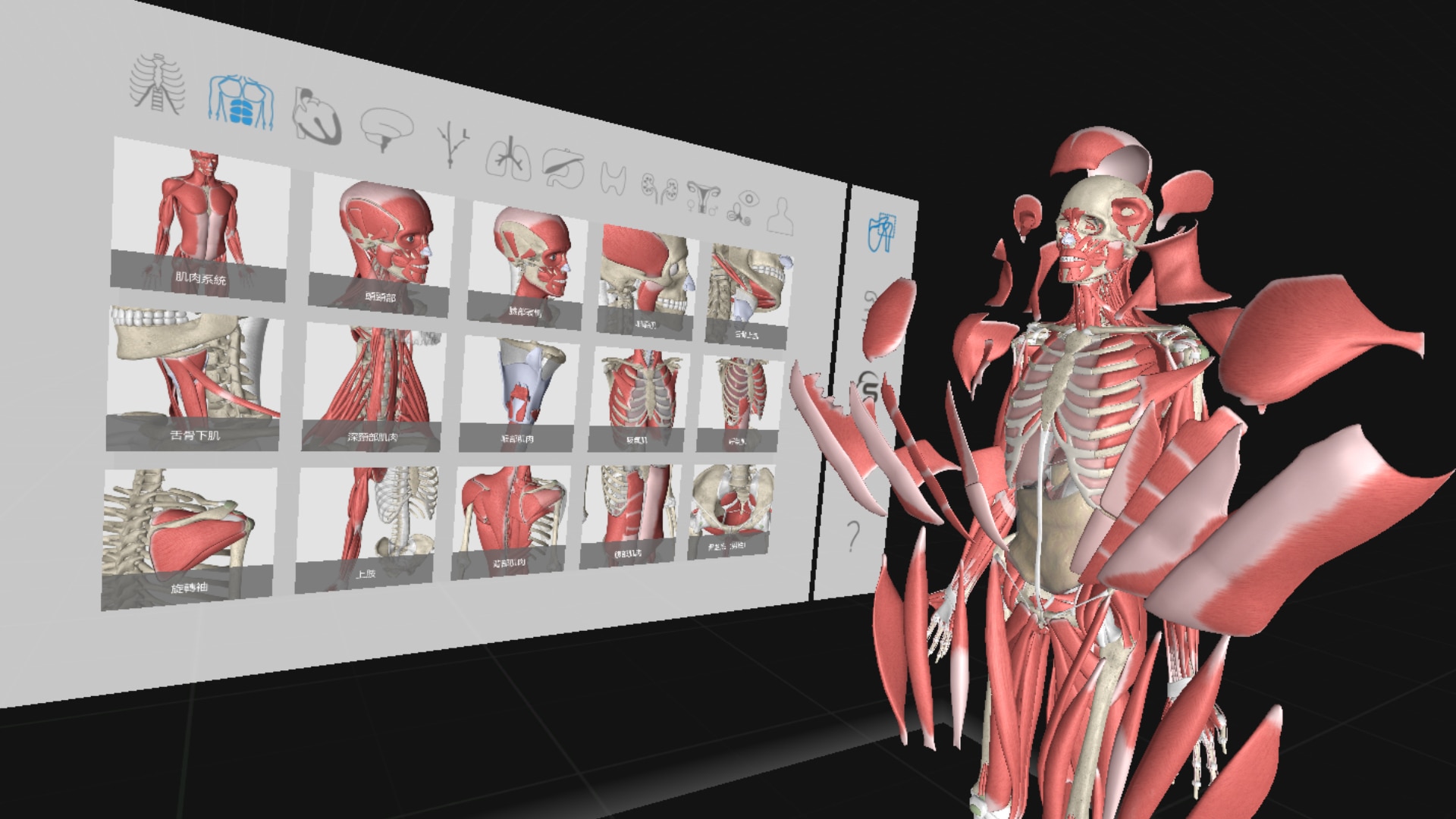 HTC DEEPQ COLLABORATES WITH TAIPEI MEDICAL UNIVERSITY IN BUILDING THE LARGEST VR ANATOMY LAB
Overcoming historical anatomy study obstacles, transforming medical education with revolutionary technologies.
TAIPEI, Nov. 29, 2018 – HTC's healthcare division, DeepQ, today announced the completion of the world's largest virtual reality anatomy lab in collaboration with Taipei Medical University. Equipped with 10 sets of VIVE Pro headsets, which won the Best VR Headset of the Year from VR Awards last month, this cutting-edge VR anatomy lab not only supports aspiring medical students learn/train by themselves, but also allows for multiple users to join a virtual space and experience a human anatomy demonstration by a lecturer. This remarkable innovation is transforming a course that previously could only be taught physically in person, enabling students to employ the latest VR technology to better prepare themselves in mastering the multi-dimensional intricacies of the human body.
"With VR providing invaluable course elements, we tutors become navigators to students, who can truly immerse themselves in the virtually-constructed anatomy space as if piloting the best aircraft money can buy," said Hung-Ming Chang, Director of the Department of Anatomy and Cell Biology, Taipei Medical University. "Through virtual reality, we may truly observe the human anatomy in ways and angles that were previously near impossible to delve into. Through a combination of static structure comprehension paired with dynamic representations of spatial human construction, we may greatly boost the understanding and interest of our medical students."
"VR delivers an accurate visual multi-dimension representation of the human anatomy, allowing for new learning methods that will transform medical education as well as greatly boost its effectiveness," said Edward Chang, HTC President of the Healthcare Division. "We are delighted to see VR applied into mainstream medical education and clinical uses, and hope that this tool will truly benefit more students, tutors, and clinical professionals, as well as the patients themselves."
The study of anatomy has always been regarded as the foundation of medicine, and proficiency in anatomical structure identification is associated with better surgical outcomes. Throughout the history of anatomy, education was delivered through 2D objects such as textbooks and models, and more recently using tablet devices and digital anatomy tables. 2D courseware was deeply challenged by its inability to present accurate dimensional perceptions, requiring students to imagine how veins, nerves and organs worked in conjunction within the human body, a missing link that was long regarded as an obstacle for aspiring medical professionals-in-training. Moreover, the limited availability of cadavers and their one-time use means that some medical students may not have the opportunity to learn from a real human body, which has been a long-standing pain point in medical education.
With the advent of VR technology, new tools for learning have been developed that can create unique curriculum spaces for students to immerse themselves into. With the ability to support up to 300 people in the same virtual space, these tools allow users to dismantle the human body into over 4,000 detailed structural components for close observation. In addition to static human models for studying, this technology also supports dynamic anatomic models that accurately represent how muscles contract and the movements of valves in a beating heart, thus offering great leaps of visual effectiveness through intuitive learning methods.
Using the recently completed VR anatomy lab at Taipei Medical University, lecturers can demonstrate different angles of the human body structure with the VIVE Pro headset, after which the students can follow up by trying out the VR curriculum on their own. With every headsets next to each anatomy table, students may actively participate before, during, and after the anatomy courses, gaining deeper understanding of the human anatomy in form and structure relative to the position of organs. Combined with actual operations upon cadavers, the virtual-to-actual learning method may truly benefit students in overcoming obstacles encountered through traditional methods, potentially significantly reducing the number of cadavers required over a student's medical training.
The Taipei Medical University faculty team will also be developing more VR curriculum for students during all stages of the anatomy courses. From pre-studies before class and in-course practice to after-class reviews, the faculty expects to employ the VR curriculum in reversing the rigid methodologies of traditional medical studies. The university is looking towards more applications as the program transitions to anatomy courses in the School of Continuing Studies, Advanced Medical EMBA courses, and even into Summer Camp curriculum for elementary, middle-school and high-school students, meanwhile transforming the study of anatomy into something more accessible and efficient.
For more information, please visit https://deepq.com/medical-vr-page/
For more media assets please see:
https://drive.google.com/open?id=1ZhE3kc_H7hB8TLrUbvlYI0jIgVANuLv4
About HTC VIVE
VIVE is a first-of-its-kind virtual reality platform, built and optimized for room-scale VR and true-to-life interactions. Delivering on the promise of VR with game-changing technology and best-in-class content, VIVE has created the strongest ecosystem for VR hardware and software, bringing VR to consumers, developers and enterprises alike. The VIVE ecosystem is built around the best VR hardware in market, supported by VIVE X, a $100 million accelerator for VR and related technology start-ups, VIVE, a global platform and app store with the world's first VR subscription model that operates in more than 60 countries, and VIVE Studios, its VR content development and publishing initiative. For more information on VIVE, please visit www.VIVE.com.
About HTC
HTC Corporation aims to bring brilliance to life. As a global innovator in smart mobile devices and technology, HTC has produced award-winning products and industry firsts since its inception in 1997, including the critically acclaimed HTC U and Desire lines of smartphones. The pursuit of brilliance is at the heart of everything we do, inspiring best-in-class design and game-changing mobile and virtual reality experiences for consumers around the world. HTC is listed on the Taiwan Stock Exchange (TWSE: 2498). www.htc.com。
# # #
HTC, the HTC logo are the trademarks of HTC Corporation. All other names of companies and products mentioned herein may be the trademarks of their respective owners.