HTC VIVE Cuts The Cable With Debut Of VIVE Wireless Adapter
Pre-order for device launches Sept. 5; On shelf date set for Sept. 24
COLOGNE, Germany, Aug. 21, 2018 /PRNewswire/ -- Gamescom -- HTC VIVE™ today is meeting the promise of wireless premium VR with the official announcement and pre-order of the VIVE Wireless Adapter. The adapter frees VR users from the tether back to their PC, while maintaining the performance requirements for premium VR on both the HTC VIVE and VIVE Pro. Pre-order starts Sept. 5. For customers in the U.S., pre-orders will be available at Amazon, Best Buy, Microsoft Store online, NewEgg and vive.com.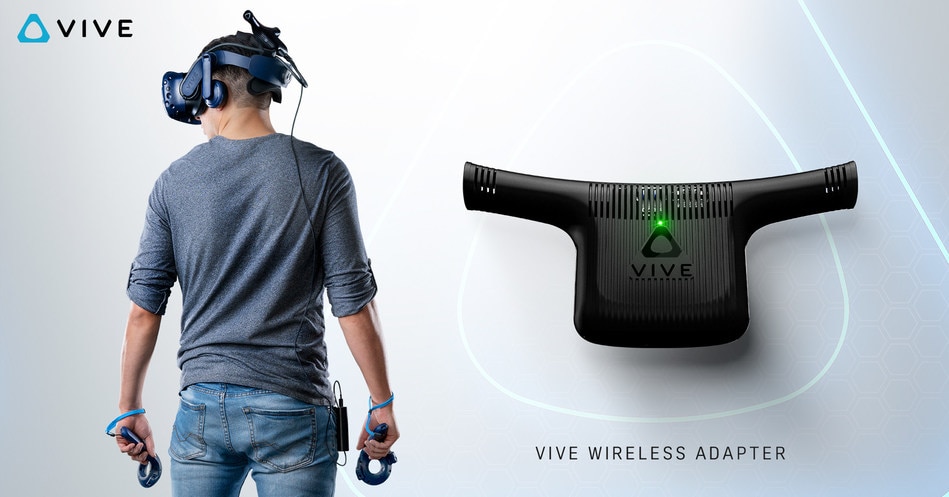 The new VIVE Wireless Adapter cuts the cable back to the PC, delivering an unprecedented VR experience for VIVE customers.
The VIVE Wireless Adapter retails for $299 (USD). Installed in just minutes, the base adapter works with both VIVE and VIVE Pro. VIVE Pro owners will need an additional compatibility pack with a connection cable for the VIVE Pro, as well as foam padding and an attachment device unique to VIVE Pro. The VIVE Pro compatibility pack retails for $60 (USD).
"Since the first demos of VIVE, we've known that to deliver on the best of premium VR, we wanted it to be wireless," said Daniel O'Brien, GM Americas, HTC VIVE. "But we learned that delivering a great wireless experience takes time and really smart partners. We've brought the engineering expertise together to deliver a truly first of its kind wireless VR experience. Thanks to Intel and DisplayLink for helping to make this vision a reality."
Installation of the VIVE Wireless Adapter occurs in minutes by installing a PCI-e card and attaching a sensor from the PC that broadcasts to and from the newly wireless VIVE headset. The adapter has a broadcast range of 6 meters with a 150 degree field of view from the sensor and runs in the interference-free 60Ghz band using Intel's WiGig specification, which, combined with DisplayLink's XR codec, means low latency and high performance with hours of battery life.
The Adapter is powered by the HTC QC 3.0 PowerBank, which can also double as a charge pack for a smartphone. The retail package ships with one PowerBank and additional PowerBanks will be purchasable at vive.com.
"I congratulate HTC and we are excited to see a flagship device and new user experience enabled by Gigabit, low-latency wireless," said Dr. Cormac S.G. Conroy, Corporate Vice President and General Manager, Intel Communication and Devices Group. "In building this mmWave solution, we had our eyes on the demands of VR and leveraged our deep 5G wireless experience. We understood the performance needs of VR and the gaming and enterprise markets. We can't wait for everyone to bring what we've been working on into their homes and into their VR arcades."
"DisplayLink's heritage is in solving complex problems for enterprises all over the world," said John Cummins, Senior Vice President Sales and Marketing, DisplayLink. "We're very excited to deliver the freedom and complete immersion of wireless VR to businesses and the application development community that serves them. For gaming, arcades, training, and future applications yet to be developed, the promise of low latency, high quality wireless VR is available now."
"Wireless represents the true promise of VR and Seeking Dawn," said Freeman Fan, Founder & CEO, Multiverse Entertainment. "Our gameplay in Seeking Dawn capitalizes on the freedom of wireless, and we can't wait to showcase how wireless changes the expectations around VR content."
To celebrate the launch, all VIVE Wireless Adapter purchases will include a two-month trial to VIVEPORT Subscription, offering access to nearly 500 titles, including Seeking Dawn.
# # #
About HTC VIVE
VIVE is a first-of-its-kind virtual reality platform, built and optimized for room-scale VR and true-to-life interactions. Built on the SteamVR platform, VIVE delivering on the promise of VR with game-changing technology and best-in-class content, VIVE has created the strongest ecosystem for VR hardware and software, bringing VR to consumers, developers and enterprises alike. The VIVE ecosystem is built around the best VR hardware in market, supported by VIVE X, a $100 million accelerator for VR and related technology start-ups, VIVPORT, a global platform and app store with the world's first VR subscription model that operates in more than 60 countries, and VIVE Studios, its VR content development and publishing initiative. For more information on VIVE, please visit www.vive.com.
# # #
HTC, the HTC logo are the trademarks of HTC Corporation. All other names of companies and products mentioned herein may be the trademarks of their respective owners.