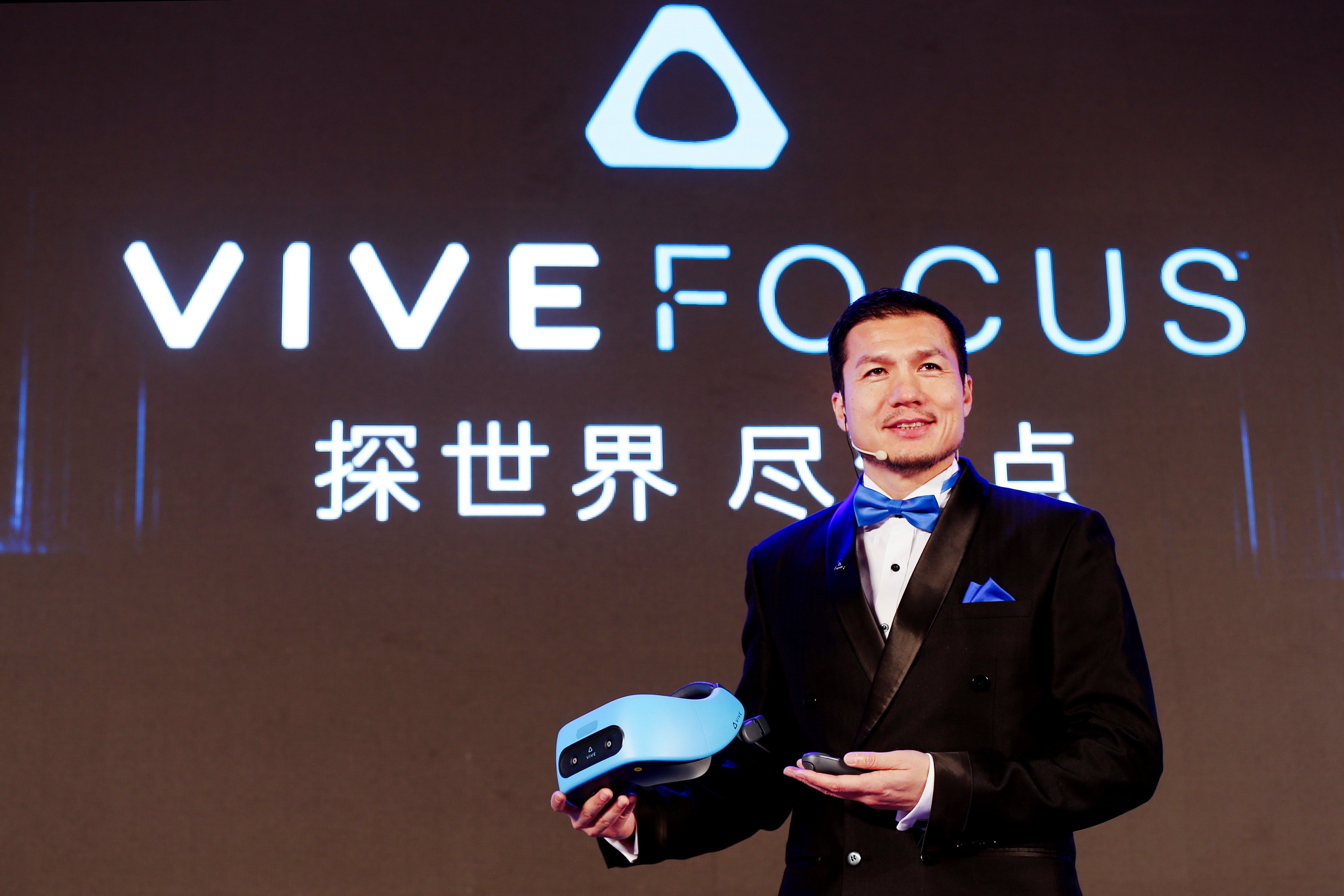 HTC VIVE ANNOUNCES THE VIVE WAVE VR OPEN PLATFORM
WITH SUPPORT FROM CHINA'S LEADING VR DEVICE AND
CONTENT PARTNERS
HTC VIVE also unveils the VIVE FOCUS, its first standalone VR headset for the China market, at the VIVE Developer Conference 2017
Beijing, China – November 14, 2017 —— HTC Corporation ("HTC"), a pioneer in innovative, smart mobile and virtual reality (VR) technologies, today held its VIVE™ Developer Conference 2017 (VDC2017), where it announced VIVE WAVE™(www.vive.com/cn/vive-wave-en), a VR open platform and toolset that will open up the path to easy mobile VR content development and high-performance device optimization for third-party partners. 12 hardware partners, namely 360QIKU, Baofengmojing, Coocaa, EmdoorVR, Idealens, iQIYI, Juhaokan, Nubia, Pico, Pimax, Quanta and Thundercomm, announced their support for the integration of VIVE Wave as well as the VIVEPORT™ VR content platform into their future products. VIVE Wave is a clear step forward in bringing together the highly fragmented mobile VR market that has growth up in China the last several years. It saves tremendous efforts by allowing developers to create content for a common platform and storefront across disparate hardware vendors. Over 35 Chinese and global content developers have already built VR content optimized for VIVE Wave, with 14 showing live demos at the event. VIVE also unveiled the VIVE FOCUS™ (www.vive.com/cn/product/vive-focus-en), its highly anticipated premium standalone VR headset for the China market that is also based on the VIVE Wave VR open platform.
Specifically designed to appeal to a mass market audience, the VIVE Focus offers enhanced comfort for extended use, easy on-off capabilities, and is the first commercial standalone device to deliver inside-out 6-degree-of-freedom tracking (6DoF) which VIVE calls "world-scale". Without the need to be attached to a PC or a phone, the VIVE Focus provides unlimited freedom of mobility while reducing the total cost for users to own a premium VR device. This type of device will certainly appeal to a much larger group of consumers. Furthermore, its high-resolution AMOLED screen realizes the best possible VR experience, with low latency and unmatched clarity. The VIVE Focus is powered by the advanced features of the Qualcomm® Snapdragon™ 835 VR Platform and utilizes the VIVE Wave VR open platform, including the rich library of VR content available on the Viveport.
The VIVE Wave VR SDK offers an open interface that enables interoperability between numerous mobile VR headsets and accessories, with Viveport as the content platform for compatible devices. This allows VR content developers to more efficiently and attentively develop content while offering them a much broader reach of potential customers across multiple vendors. Meanwhile, hardware partners are able to focus on true device innovation versus fundamental VR optimization, with access to much needed quality VR content through the Viveport platform. 500 reservation cards to get priority for receiving the VIVE Wave Dev Kits (including a VIVE Focus) were given out to qualified developers on-site. Interested VIVE Wave developers who didn't come to the event can directly apply online at VIVE's developer portal: hub.vive.com/zh-CN/developer-portal. VIVE will select developers based on the quality of submitted applications.
"We're delighted that the VIVE Wave VR open platform is receiving such strong industry support from both hardware partners and developers," said Alvin Wang Graylin, China Regional President of VIVE, HTC. "As the VR industry leader in China, it is our duty to help reduce market fragmentation and provide content developers with more ways to make money. VIVE Wave will assure a higher consistency in the user experience on a variety of mobile VR devices across various price points, making quality VR more accessible to the mass market. What's more, with the new VIVE Focus, we are excited to bring high quality 6DoF VR experiences, which were previously only available on tethered devices, in a more convenient and portable form factor."
"As the world continues to become more mobile and connected, we've been working closely with VIVE though our HMD Accelerator Program and advanced VR software features to enable immersive virtual reality experiences without the needs for wires or PCs," says Hugo Swart, senior director, product management, Qualcomm Technologies Inc. "The combination of Snapdragon's ultra-low power, high performance VR coupled with the new VIVE Wave VR open platform will help content developers deliver best-in-class mobile VR experiences to users."
VIVE also announced a global strategic partnership with the leading VR development platform Unity Technologies to enable the one-click publishing of VR content on to Viveport for both PC and mobile developers. Unity will integrate Viveport into Unity's content platform and provide a more intuitive way for developers to utilize the new VIVE Wave VR SDK. Additionally, Unity will also integrate VIVE's in-app payment and VR advertisement functions into its development system, with an initial focus on the China market, opening up even more revenue opportunities for its VR developer community.
At the VDC this year, VIVE also announced the launch of the annual Viveport Developer Awards (VDA2), which invites VR/AR developers from all over the world to participate and be recognized for their creativity and innovation. More information on the categories, selection process, and prizes will be released in December.
- End -
About HTC
HTC Corporation aims to bring brilliance to life. As a global innovator in smart mobile devices and virtual reality devices and technology, HTC has produced award-winning products and industry firsts since its inception in 1997, including the critically acclaimed HTC U, One and Desire lines of premium and flagship smartphones, and leads the VR industry with the VIVE portfolio. The pursuit of brilliance is at the heart of everything we do, inspiring best-in-class design and game-changing mobile and virtual reality experiences for consumers around the world. HTC is listed on the Taiwan Stock Exchange (TWSE: 2498). www.htc.com。
About HTC VIVE
VIVE is a first-of-its-kind virtual reality platform, built and optimized for room-scale VR and true-to-life interactions. Delivering on the promise of VR with game-changing technology and best-in-class content, VIVE has created the strongest ecosystem for VR hardware and software, bringing VR to consumers, developers and enterprises alike. The VIVE ecosystem is built around the best VR hardware in market, supported by VIVE X, a $100 million accelerator for VR and related technology start-ups, Viveport, a global platform and app store with the worlds first VR subscription model that operates in more than 32 countries, and VIVE Studios, its VR content development and publishing initiative. For more information on VIVE, please visit https://www.vive.com.
About Qualcomm
Qualcomm's technologies powered the smartphone revolution and connected billions of people. We pioneered 3G and 4G – and now we are leading the way to 5G and a new era of intelligent, connected devices. Our products are revolutionizing industries, including automotive, computing, IoT, healthcare and data center, and are allowing millions of devices to connect with each other in ways never before imagined. Qualcomm Incorporated includes our licensing business, QTL, and the vast majority of our patent portfolio. Qualcomm Technologies, Inc., a subsidiary of Qualcomm Incorporated, operates, along with its subsidiaries, all of our engineering, research and development functions, and all of our products and services businesses, including, our QCT semiconductor business. For more information, visit Qualcomm's website, OnQ blog, Twitter, Facebook.
About Unity Technologies
Unity Technologies is the creator of a flexible and high-performance end-to-end development platform used to create rich interactive 2D, 3D, VR and AR experiences. Unity's powerful graphics engine and full-featured editor serve as the foundation to develop beautiful games or apps and easily bring them to multiple platforms: mobile devices, home entertainment systems, personal computers, and embedded systems. Unity also offers solutions and services for creating games, boosting productivity, and connecting with audiences including Unity Ads, Unity Analytics, Unity Asset Store, Unity Cloud Build, Unity Collaborate, Unity Connect and Unity Certification. Unity Technologies serves millions of registered developers including large publishers, indie studios, students and hobbyists around the globe. For more information, visit www.unity3d.com and to see the latest games and experiences created in Unity, go to https://unity.com/madewith.
HTC, the HTC logo are the trademarks of HTC Corporation. All other names of companies and products mentioned herein may be the trademarks of their respective owners.
Qualcomm Snapdragon is a trademark of Qualcomm Incorporated.