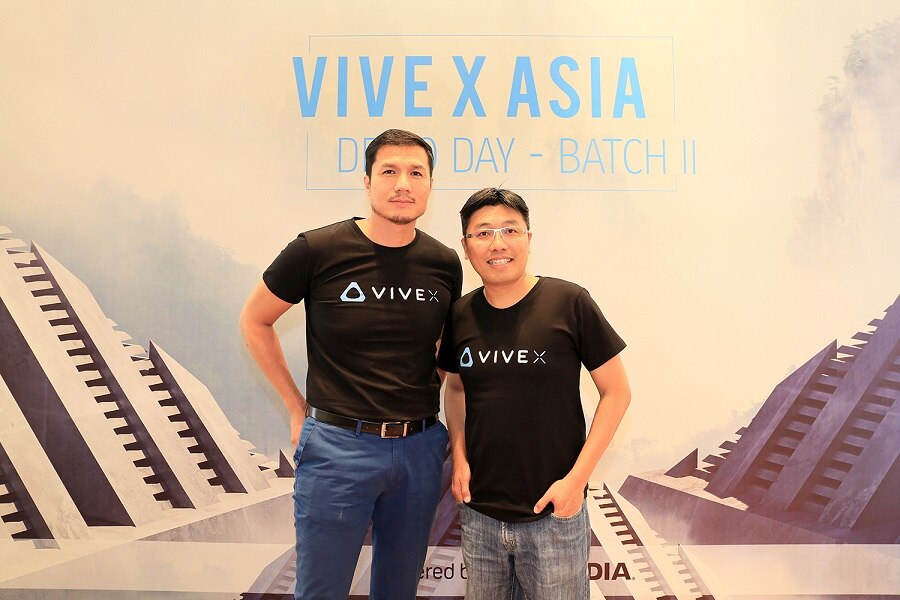 VIVE X DEBUTS 33 VIRTUAL REALITY STARTUPS DURING DEMO DAYS IN TAIPEI, SAN FRANCISCO AND SHANGHAI
HTC's $100M VR/AR Accelerator Program Showcased Enterprise VR Solutions, Hardware, VR Tools & Services and Entertainment Applications that Will Drive the Industry Forward; Vive X also Opens Submissions for New Candidates to Join the Program
Shanghai, China – June 26, 2017– VIVE X, HTC VIVE™'s $100 million global VR/AR accelerator program, has held three separate Demo Days globally, where more than 33 startups from eight countries showcased new innovations in virtual reality (VR) and augmented reality (AR) hardware, entertainment, enterprise solutions and tools and services. The events marked the debut for companies chosen to be part of Vive X's most recent batch of funded partners.
"Additionally, Vive X announced two new milestones. The program is opening its newest incubator location in Tel Aviv, joining offices in Taipei, Beijing, Shenzen and San Francisco. The additional location will solidify the accelerator's global presence, with a focus on AR and artificial intelligence (AI). Vive X also opened the call for submissions for the next batch of candidates for all five locations, and is now accepting applications at vivex.co.
"The most recent batch of Vive X companies is focused on key stratiegic areas to grow the VR/AR ecosystem," said Marc Metis, Global Head of Vive X at HTC Vive. "Vive X partnered startups are innovating in VR and AR tools and services, user experience, artificial intelligence, social applications, and solutions for strategic verticals and enterprise."
Vive X ran its Demo Day events over three weeks in Taipei, San Francisco and Shanghai. The events are meant to propel startups that are part of HTC's program into the next phase of their business by giving them an opportunity to present before an audience of hundreds of investors as well as press and potential business partners.
Where Vive X focuses on early stage startups, HTC Vive is also a key partner in the Virtual Reality Venture Capital Alliance (VRVCA), which specializes in supporting mid-to-late stage companies. Formed in 2016, VRVCA comprises 48 of the top virtual reality investors in the world representing $18.0 billion total deployable capital. For startups that have moved beyond accelerator phase, VRVCA is now open and accepting applications at vrvca.com.
The deadline is August 15, 2017 for submissions for both the next batch of Vive X companies (vivex.co), and for consideration for VRVCA partnership (vrvca.com).
The companies participating in the current Vive X Demo Days are as follows:
San Francisco
Beijing
Shenzhen
Taipei
For more information and to apply for the Vive X program for all five global locations, please visit vivex.co.
About HTC
HTC Corporation aims to bring brilliance to life. As a global innovator in smart mobile devices and technology, HTC has produced award-winning products and industry firsts since its inception in 1997, including the critically acclaimed HTC One and HTC Desire lines of smartphones. The pursuit of brilliance is at the heart of everything we do, inspiring best-in-class design and game-changing mobile and virtual reality experiences for consumers around the world. HTC is listed on the Taiwan Stock Exchange (TWSE: 2498).www.htc.com.
About HTC VIVE™
VIVE is a first-of-its-kind virtual reality platform developed by HTC and Valve for total immersion in virtual worlds. Designed from the ground up for room-scale VR and true-to-life interactions, Vive delivers on the promise of VR with game-changing technology and best-in-class content. Vive has been recognized with hundreds of awards and wide critical acclaim since its unveiling in 2015. Vive owners can also discover and purchase content from Viveport, the app store for VR. Visit www.VIVE.com or www.viveport.com for more information.
About VRVCA
Formed in 2016, the Virtual Reality Venture Capital Alliance ("VRVCA") is a close-knit membership comprising of 49 of the top virtual reality investors in the world representing $18.0 billion total deployable capital. The purpose of VRVCA is to foster long-term growth in the VR/AR industry through identifying, sharing and investing in the world's most innovative & impactful VR/AR technology and content companies. We are hosting the next investment meeting this September in Beijing. Please submit your application at http://www.vrvca.com/submit/ if you want to get access to the top VR/AR investors.
###
HTC and the HTC logo are the trademarks of HTC Corporation. All other names of companies and products mentioned herein may be the trademarks of their respective owners.