Calibration kit
The calibration kit includes items for assembling the calibration board, which is placed inside the tracking area during the camera calibration process.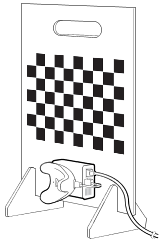 The calibration kit includes an acrylic calibration board with a chessboard pattern, which is used as the calibration target during camera calibration. The kit also includes base supports for the board and a screw for attaching a Rover module and VIVE Tracker (3.0), which is used to determine the location of the calibration target.
After setting up VIVE Mars CamTrack, you'll need to assemble the calibration board and attach a Rover module and VIVE Tracker (3.0) to it. You can then place the board inside the tracking area and start the calibration process. For details, see Setting up the calibration board and Collecting calibration data using the Camera Calibration Tool.