HTC and Syntrend to Open VIVELAND™, the World's First Premium VR Arcade
Grand Opening on October 29th in Taipei to set the standard for top quality, totally immersive public entertainment
Taipei, Taiwan – October 27, 2016 ‐ HTC, a pioneer in innovative, smart mobile and virtual reality technologies , and Syntrend Creative Park (Syntrend) today announced the world's first high-end VR arcade, VIVELAND™, in Taipei, Taiwan. Featuring the industry-leading HTC VIVE™ virtual reality systems, VIVELAND will offer a range of unique experiences with new virtual reality content, complete with a comfortable and immersive environment tailored for the consumers.
VIVELAND is a strategic ecosystem initiative of the Institute for Information Industry working with industry leaders including HTC, Syntrend, Advanced Micro Devices (AMD), and SteelSeries, in partnership with the Taiwan Ministry of Economic Affairs' Digital Content Industry Promotion Office, under guidance of the Industry Development Bureau. As well as being the first VR theme park in Taiwan, VIVELAND will foster further innovation in virtual reality content and applications, drive synergy across software and hardware vendors, and open new frontiers and competitive advantages for the digital content industry of Taiwan.
Located on the 3rd floor of the Syntrend Creative Park and covering 330 square meters, the VIVELAND arcade booths are fully equipped with HD projectors, high-end stereo equipment, high-performance AMD Radeon™ graphics cards, SteelSeries high-quality wireless headsets with low latency, and comfortable sofa seating for the consumer to experience the world-class virtual reality that the HTC VIVE offers. There will be over 20 of the latest and most exciting titles readily available, including Everest VR, and the Fruit Ninja VR, Zombie Camp. . Upcoming VR content will be added to the lineup to augment the virtual reality experience and increase the selection for consumers.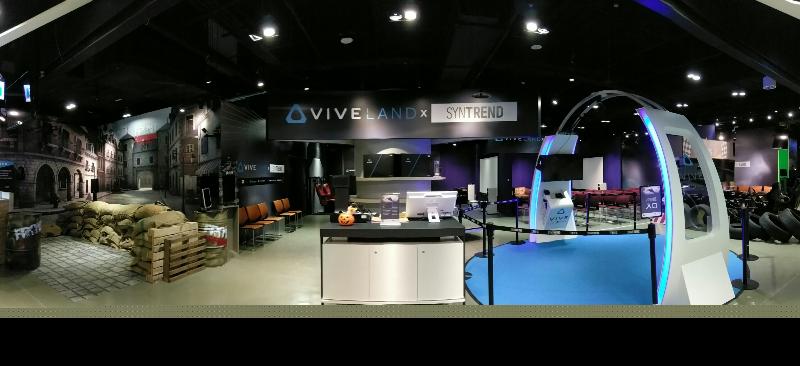 Theme Zones
In addition to the open/closed arcade booths, there are four themed zones of VIVELAND to offer consumers even greater virtual reality enjoyment, including the gamers' favorite gallery shooter FRONT DEFENSE, the ultimate racing simulator Project Cars, the heart-stopping and fear-inducing high-rise simulator The Walk, and the experience of Bounty VR in 4D to shoot aliens and drive spaceships in a vibrating seat. The green-screen area offers a mixed reality experience for all viewers to join in the gameplay along with the player, where video of the play session can be saved and shared with friends.
"The AMD Radeon™ graphics card is specifically built for VR gaming," says Daryl Sartain, Director of VR and Display Technology at AMD. "It offers consumers smooth and low latency gameplay with greater support for visual comfort. The AMD high-performance graphics card and HTC VIVE at VIVELAND will provide the best experience for consumers in a virtual reality world."
"Syntrend has strived to bring the latest in innovative technologies to consumers, and HTC VIVE is the global leader in the field of virtual reality," said Ray Wang, Business VP of Syntrend. "We are very excited to work with HTC in bringing the first ever VR arcade to Taiwan. Syntrend customers will be able to jump on the forefront of VR technology at VIVELAND and experience the latest and greatest in virtual reality games readily available worldwide."
"Virtual reality's core is in the sense of total immersion," said Raymond Pao, Vice President of Virtual Reality at HTC. "The best VR experience is therefore dependent on the size of the physical space for sensing spatial 3D by consumers. VIVELAND is built with this purpose in mind, where consumers can fully enjoy the HTC VIVE experience without spatial restriction. We are excited to be again working with Syntrend in bringing the world exclusive immersive experience of VIVE to consumers of Taiwan. We will continue to build and perfect the VR ecosystem and bring true virtual reality into people's lives."
VIVELAND will officially open on October 29th for consumers to fully experience the thrill of virtual reality on the HTC VIVE platform over a period of six months. You can choose to be either comfortably immersed in your own virtual reality world using the VIVE, or share your virtual reality experience with friends and other VR-lovers at the theme park. Ticket prices in New Taiwan Dollars as shown below:
Closed Booth: NT$400 per 30-minute session
Open Booth: NT$200 per 15-minute session
FRONT DEFENSE: NT$200 per session
Project CARS: NT$250 per session
The Walk: NT$150 per session
Bounty VR in 4D: NT$200 per session
Mixed Reality: NT$300 per 15-minute session
For more images, please download from the following link:
https://www.dropbox.com/sh/yy8pnaa4pyb9689/AABVDJP0KALHH-aDbZMXKRIXa?dl=0
About HTC VIVE™
HTC VIVE is a first-of-its-kind virtual reality platform developed by HTC and Valve for total immersion in virtual worlds. Designed from the ground up for room-scale VR and true-to-life interactions, VIVE delivers on the promise of VR with game-changing technology and best-in-class content. VIVE has been recognized with over 65 awards and wide critical acclaim since its unveiling in 2015. For more information, visit www.VIVE.com.
About HTC
HTC Corporation aims to bring brilliance to life. As a global innovator in smart mobile devices and technology, HTC has produced award-winning products and industry firsts since its inception in 1997, including the critically acclaimed HTC One and HTC Desire lines of smartphones. The pursuit of brilliance is at the heart of everything we do, inspiring best-in-class design and game-changing mobile and virtual reality experiences for consumers around the world. HTC is listed on the Taiwan Stock Exchange (TWSE: 2498). www.htc.com.



Global Marketing Division
Corp. PR – Executive Affairs

Kitty Chung, Sr. Manager
Email: kitty_chung@htc.com
Mobile: +886-905-098-205
Jacob Yu, Assistant Manager, Community
Email: Jacob_Yu@htc.com
Mobile: +886-932-355-007

HTC, the HTC logo, and the Vive logo are the trademarks of HTC Corporation. All other names of companies and products mentioned herein may be the trademarks of their respective owners.