What to use for cleaning
Since sweat and heat may quickly build up when you're using your VR devices, keep them clean and hygienic at all times. Clean the headset, controllers, and other accessories between uses, especially if you use them often or share them.
Ultraviolet C (UVC) cleaner
Using a UVC cleaner is an effective and recommended way to decontaminate headsets and controllers. Before using a UVC cleaner on your VR devices, make sure to properly cover the headset lenses and sensors. Discoloration due to UV exposure is not covered by warranty.
Microfiber cloths
Prepare several microfiber cloths—the same type used for wiping glasses or screens—to use for cleaning.
Make sure they are dust free.
Use only a dry microfiber cloth to wipe lenses and eye trackers.
Use a water-dampened microfiber cloth to wipe the headphone pads (on PC VR headsets).

Make sure the microfiber cloth is damp—not dripping—when moistening. Liquid dripping into the headset or controllers could cause damage.
Disinfectants
For disinfecting leather or fabric face cushions, exterior (hard surfaces) of headsets, and other accessories, dampen a microfiber cloth with a disinfectant.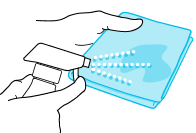 We recommend the following:
Diluted alcohol solution that contains 70-75% alcohol

Diversey™

Virex®

II 256 Disinfectant Cleaner (1:256 dilution)
You can also use one of the following disinfecting wipes:
Clorox®

Disinfecting Wipes (Bleach-free)

PDI

Super

Sani-Cloth®

Germicidal Disposable Wipe
Important:
Do not spray disinfectants or other liquids directly on VR equipment.
Do not apply disinfectants or wipes to foam material (such as foam face cushions), straps, or sensitive components (such as lenses or eye trackers).
Do not dip or soak the headset or controllers in liquid.
Aside from our recommended disinfectants, do not use other organic solvents for cleaning the exterior of headsets, controllers, or accessories. Do not use acidic liquids.
Do not tumble dry, iron, or expose face cushions to direct sunlight.