Setting up a wireless multiuser VR environment
Depending on the number of users, you need to allot a total space of 5 m x 5 m (16.4 ft x 16.4 ft) or 10 m x 10 m (33 ft x 33 ft) for your wireless multiuser VR environment.
Below are the requirements for setting up a multiuser environment.
Setup requirements
Each user needs to have the following:
A computer running the VR content
A

VIVE

or

VIVE Pro

headset with

VIVE Wireless Adapter

that's connected wirelessly to the computer
Their own play area
Each wireless link box must be arranged facing the respective user's play area.
In the VIVE Wireless app on each computer, set the Connection mode. Click

> Settings > Connection mode, and then choose a mode. Make sure VIVE Wireless adapters with overlapping coverage are in different modes.
Additional requirements for a 10 by 10 meter space setup
The 10 by 10 meter space setup is meant for a multiuser environment with computers running server-based VR content.
You need to use VIVE Pro headsets and SteamVR Base Station 2.0. You need four base stations.
To set up the base stations: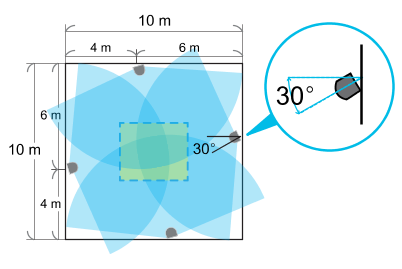 Place the base stations at the borders of the 10 by 10 meter space.
Make sure a base station is 4 meters (13.12 ft) away from one edge and 6 meters (19.7 ft) away from the other edge of the space.
Tilt each of the base stations horizontally at a 30-degree angle.