Attaching the battery cradle and charging the battery
The battery cradle has a battery pack that can supply power to the headset.
Tip:
To avoid damaging the headset and battery cradle when attaching or detaching components, assemble the battery cradle on a level surface such as a desk or table.
Here's how to attach the battery cradle to the headset:
Set the battery cradle down with the USB port facing up.

Press the release button on the inside of each temple to remove the temples from the headset.

Attach the battery cradle to the headset using the temple slots.

Make sure the release buttons are aligned and the fasteners are fully inserted into the temple slots.

Connect the battery cradle's extended USB cable to the headset's extended USB port.
To charge the battery pack, connect a power adapter to the battery cradle's USB Type-C® port using a USB cable, and then connect the power adapter to a power outlet.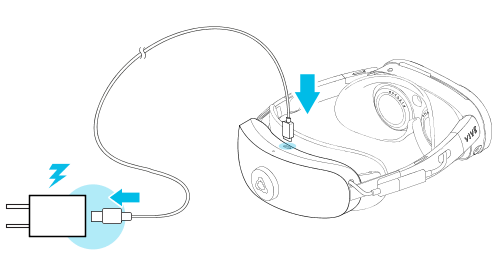 The power LED on top of the battery cradle will show the charging status.
| LED | Status |
| --- | --- |
| Flashing red | Battery level is below 15% |
| Red | Battery is charging |
| White | Battery is fully charged |
Tip:
The battery pack can be charged without attaching the battery cradle to the headset.
Related How-tos