5 by 5 meter space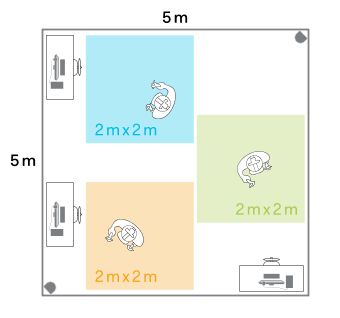 Connection modes in this example:
Blue: mode 1
Green: mode 2
Orange: mode 3
If you have a 5 m x 5 m (16.4 ft x 16.4 ft) space:
Within this space, there can be up to three users wearing headsets with wireless adapters.
Each user needs to have their own play area with a maximum size of 2 m x 2 m (6.5 ft x 6.5 ft). Make sure play areas do not overlap.
To avoid interference, make sure that users in the same space do not share the same

Connection mode

.