Connecting the power bank to
VIVE  Wireless Adapter
Important:
To ensure

VIVE  Wireless Adapter

will function normally when it's attached with

VIVE Cosmos

, use only the 21-watt QC 3.0 power bank (model 148DUT) from the attachment kit. Avoid using third-party power banks.
Use the original power bank holder and power cable from the

VIVE  Wireless Adapter

for

VIVE

package.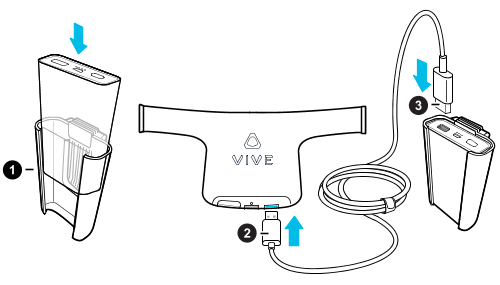 With the

POWER

button facing up, insert the power bank into the holder.

Push the tab on the holder inward to lock the power bank in place so it won't fall out of the holder.

Connect one end of the power cable into the USB power port on the wireless adapter.

Connect the other end of the cable into the USB port on the power bank.
When ready, clip the power bank to somewhere on your body such as your belt. Avoid direct skin contact with the power bank as it may get hot during use. Then put on your headset with the attached wireless adapter.
If the power cable length is too short or too long, unplug the cable from the power bank and adjust accordingly. Then plug it back to the power bank.
Related How-tos

Related How-tos