Attaching the wireless adapter to
VIVE Pro
To attach the wireless adapter to the
VIVE Pro
headset, you need to purchase the
Wireless Adapter Attachment Kit
.
There are three items you need to replace before you can attach VIVE Wireless Adapter to VIVE Pro:
Headset cable: for connecting the wireless adapter to your headset
Cradle: for attaching the wireless adapter to the top of your headset
Head pad cushion: for the back cushion of your headset
Replacing the headset cable
Peel off the face cushion starting from both ends until it detaches from the headset.

Carefully pry open the compartment cover from its flap. Pull the cover out to access the ports on the headset.

Unplug your current headset cable from the headset.

Connect the short headset cable provided in the attachment kit.

Plug in the L-shaped all-in-one connector of the cable into the headset compartment. Loop the cable around the left edge of the headset band. Press it into the black ridge to fix it in place.

Place the compartment cover back into the headset. Reattach the face cushion to its original position. Make sure the velcro strips are aligned with the headset.
Replacing the head pad cushion
Detach the head pad from the headset. Peel off its cushion. Replace it with the new cushion provided in the attachment kit.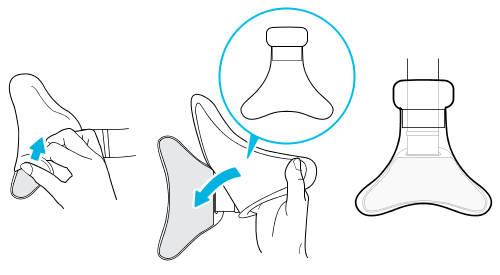 Replacing the cradle and attaching the wireless adapter
From the base of the wireless adapter, detach the screws and remove the cradle used for

VIVE

.

Attach the cradle for

VIVE Pro

to the base of the wireless adapter. When attached, fasten the screw tightly.

Unfasten the velcro strap and you'll see a clip on the cradle.

Insert the cradle's clip at the top of the headset strap.

Place the narrow side of the head pad's new cushion on the cradle. Align the top edges of the cushion and the wireless adapter. When aligned, fasten the cradle's velcro strap.

Insert the other end of the short headset cable into the headset cable port at the back of the wireless adapter.
Related How-tos